Meneghello had a deck called Cathari's gods
I found ...
Cartari, Vincenzo; Pignoria, Lorenzo [Bearb.]
Seconda Novissima Editione Delle Imagini De Gli Dei Delli Antichi Di Vicenzo Cartari Reggiano —
Padua, 1626
[Cicognara, 4688]
https://digi.ub.uni-heidelberg.de/diglit/cartari1626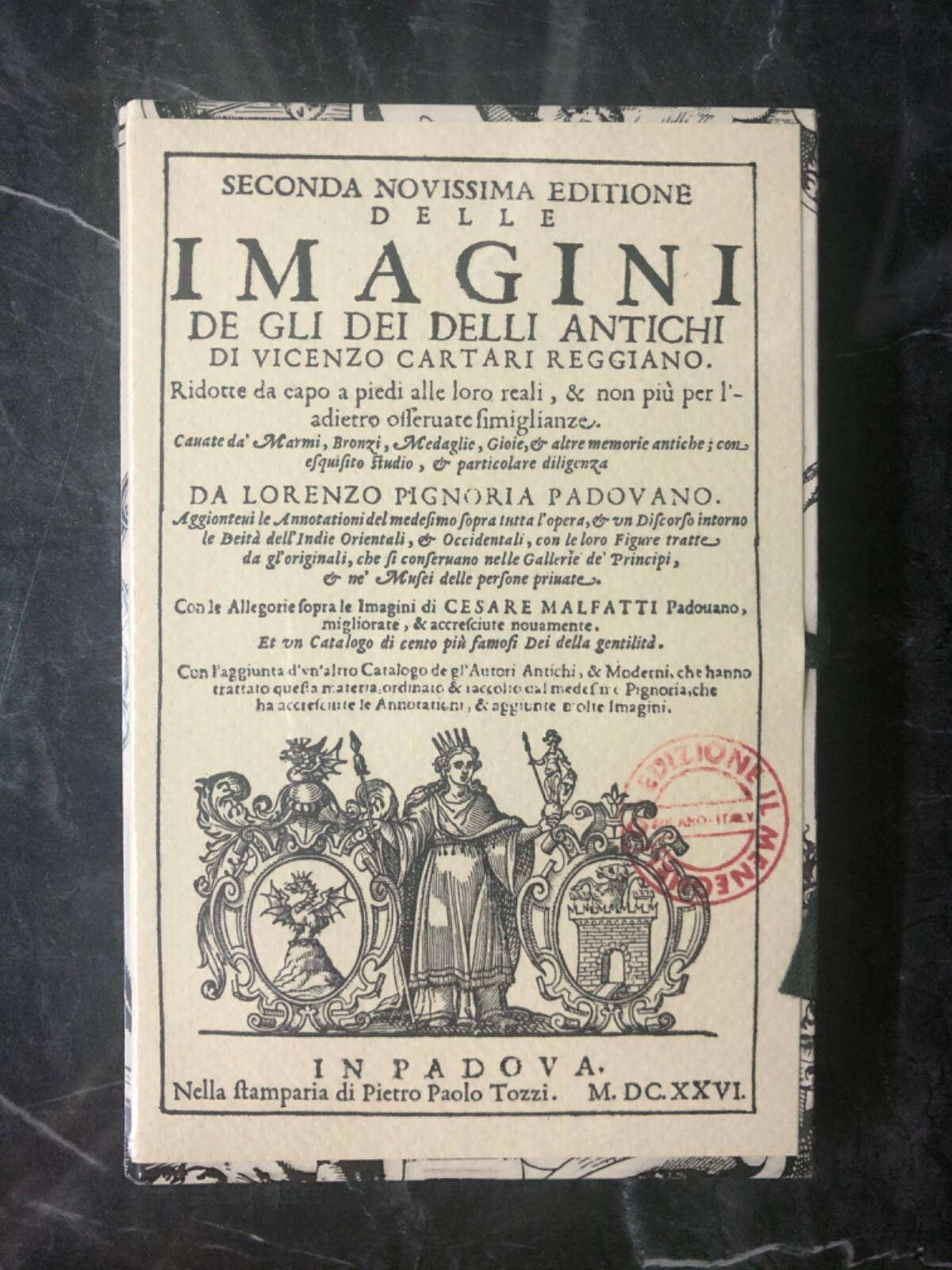 Later added: There is another Cartari version of
1571, Zinetti Venetia
. The pictures, likely also the text, are rather different.
Le imagini dei Dei degli antichi: nelle quali si contengono gl'idoli, riti, ceremonie & altre cose appartenenti alla religione de gli antichi
by Vincenzo Cartari
https://www.digitale-sammlungen.de/de/v ... 879?page=6
Further I see, that MikeH earlier often quoted a Cartari version of 1647.
https://books.google.de/books?id=dGIVAA ... navlinks_s
Wiki: Vincenzo Cartari
https://en.wikipedia.org/wiki/Vincenzo_Cartari
... (English wiki * 1531 ? . † 1590) (German wiki * 1531 ? in Reggio nell'Emilia; † 1569)
... treccani.it
https://www.treccani.it/enciclopedia/vi ... e%20di%20S
. .... (probably † 1569)
La data di morte è ignota: un termine post quem è costituito dalla dedica dell'edizione veneziana del 1571 delle Imagini, la sua opera più famosa, che è rivolta al card. Luigi d'Este e reca la data del 10 sett. 1569.
automatric translation: "The date of death is unknown: a post quem term is the dedication of the 1571 Venetian edition of Imagini, his most famous work, which is addressed to card. Luigi d'Este and bears the date of 10 Sept. 1569."
Cartari war Jean Seznec zufolge wohl ein Protegé der Herzöge von Ferrara. In seinem Werk Imagini colla sposizione degli dei degli antichi ("Bilder mit Darstellung der Götter der Alten") von 1556 nennt er als eine seiner Quellen Lilio Gregorio Giraldis Werk De deis gentium varia et multiplex historia, das im Jahr 1548 veröffentlicht worden war. Trotz des Erfolgs dieses Vorgängers wurde Cartaris Werk aufgrund seiner lebendigen Holzschnittdarstellungen der antiken Götter, die von einem gewissen Bolognino Zaltieri stammen sollen, ebenfalls populär.
automatic translation
According to Jean Seznec, Cartari was probably a protégé of the Dukes of Ferrara. In his work Imagini colla sposizione degli dei degli antichi ("Images depicting the gods of the ancients") of 1556, he cites Lilio Gregorio Giraldi's work De deis gentium varia et multiplex historia, published in 1548, as one of his sources. Despite the success of this predecessor, Cartari's work also became popular for its vivid woodcut depictions of the ancient gods, said to be by a certain Bolognino Zaltieri.
The first edition of Cartari's work was made 1556. The 3rd edition in 1571 got the successful pictures, 2 years after the death of the author.
**************
The Meneghello "Gods of the Ancients" cards ...
https://obscuriosityshop.com/products/g ... ents-cards
Quality reproduction of this deck created by Cartari, 1626
39 B&W Cards (on cream colored cardstock), Limited Edition 0f 1000, 1992
***************
Vincenzo Cartari, 1571