... and the medlar was a Visconti device. Not Sforza.
(although it was adopted by Sforza years later, along with all the other Visconti devices)
I've just come across a doctoral dissertation written by Reina Gabriele for the University of Lausanne, published in 2018 under the title
Le Imprese Araldiche Dei Visconti E Degli Sforza (1277-1535): Storia, Storia Dell'Arte, Repertorio
. It can be found here:
https://serval.unil.ch/resource/serval: ... 01/REF.pdf
In this dissertation, Gabriele identifies the fruit depicted on the clothing of the court cards in the Cary Yale suit of Swords as medlars (
nespolo
in Italian, botanical genus
Mespilus germanica
). She notes that most previous historians have mistakenly identified them as either pomegranates or quinces, in a "chain of errors continually repeated" (p. 58):
... è significativo ... ravvisare come nelle imprese dei Visconti e degli Sforza appaiano elementi botanici accuratamente descritti da cronisti come il Decembrio, ma confusi con tutt'altro anche da storici dell'arte di valore, dando luogo a una catena di errori continuamente riproposti.


Footnote:

Decembrio scrive chiaramente come Filippo Maria Visconti volle la pianta di nespolo nelle proprie insegne; furono questi frutti e fiori che vennero ripetutamente effigiati in dipinti e miniature, ma non v'è studioso che non li abbia confusi con melograni o altro di sua inventiva, con conseguenti elucubrazioni del tutto infondate.


(my translation*:

... it is important ... to recognize how the imprese of the Visconti and the Sforza contain botanical elements which were described accurately by chroniclers such as Decembrio, but which have been mistaken for all kinds of other things even by art historians of merit, giving rise to a chain of errors continually repeated.

Footnote:

Decembrio clearly writes how Filippo Maria Visconti wanted the medlar plant in his insignia, and it was the fruits and flowers of that plant which were repeatedly depicted in paintings and miniatures, but there is no scholar who has not confused them with pomegranates or something else of his own imagining, resulting in elaborate concoctions that were completely unfounded. )
* My Italian is rusty and was never terribly fluent in the first place, so I'm relying a lot on things like Google Translate, www.wordreference.com and context.reverso.net
She bases her identification of the Swords impresa as the medlar on the following evidence:
1. She found that two fifteenth-century compendia of Visconti-Sforza insignia (imprese and stemmi) in the Biblioteca Trivulziana in the Castello Sforzesco in Milan, MS. 2168 and MS. 1390, both record insignia that feature medlar fruits, flowers and/or trees.
2. In chapter LXVII of Pier Candido Decembrio's
Vita di Filippo Maria Visconti
, a biography of the Duke written shortly after his death, there is the following sentence:
"Ordinò di salvaguardare i nespoli, in ricordo del frutto entrato a far parte delle insegne viscontee"
("He gave an order to safeguard the medlars, in remembrance of the fruit that had become part of the Visconti insignia") (p. 121-121 in the 1983 edition of the
Vita
, as quoted by Gabriele on p. 352).
3. She found several examples of the use of this impresa other than the Cary Yale cards, including a wall painting in the Visconti palace in Bernate Ticino (near Milan), and illuminations in two manuscripts made in 1464 and 1465 for Francesco Sforza and Bianca Maria Visconti as gifts for Ippolita Maria Sforza:
Tabula in librum sancti Augustini De civitate Dei
(on a page that displayed a collection of 18 of the family's imprese) and
Publii Vergilii Maronis Opera
, both now at University of Valencia.
4. The fruits on the Swords cards look
exactly
like medlars:
.
.
Frankly, the depiction on the cards is so accurate that I think we can take this as proof positive that absolutely none of us on this forum know much about horticulture, because if we did we would have surely identified the damn things correctly at first glance.
(For those who want to examine the cards closely, the best images to use are the high-resolution ones at
https://brbl-dl.library.yale.edu/vufind ... &type=tag
It's quite clear from those images that the fruit were the same medlars on every court card.)
Gabriele reproduces images from MS. 1390 showing the arms of Filippo Maria Visconti and his father Gian Galeazzo surrounded by medlars:
And an example of the medlar impresa from the 1465
Publii Vergilii Maronis Opera
manuscript:
.
The heraldic medlars really can't be confused with the Sforza heraldic quince, which looked like this:
.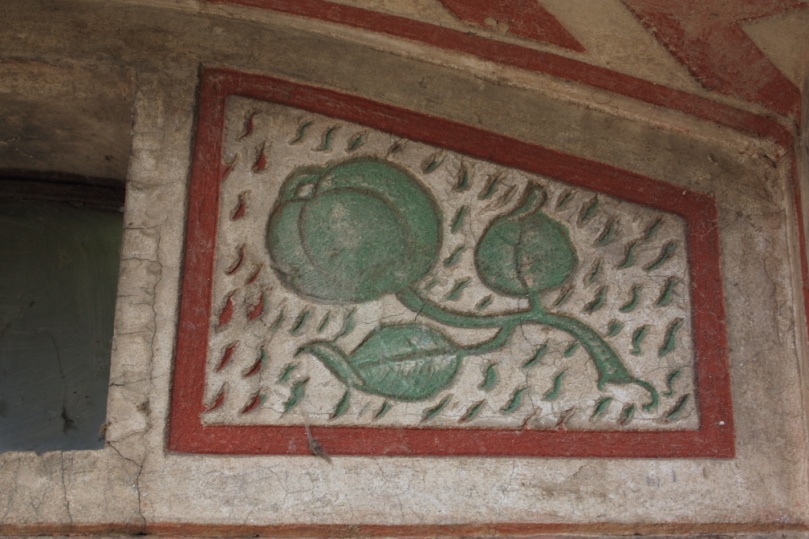 .
Note the complete and constant lack of any little spiky things sticking out of the bottom of them.
The medlars in the Swords suit also don't look anything like what pomegranates looked like in the heraldry of the time, which (a) tended to look fairly clearly like pomegranates and definitely not medlars, and (b) generally had the shell slightly open so you could see the grains within, to dispel all doubts. I don't feel I need to link to any heraldic images of them here, because no one has ever been able to come up with any credible evidence anyway to support the assertion that pomegranates were ever an impresa of either the Visconti or Sforza families. Gabriele adds a special note in her dissertation specifically to debunk that misconception (pp. 330-331).
Most of her dissertation is a long list of Visconti and Sforza imprese with a detailed description of each. For the medlar, this includes its physical attributes, its properties and uses, its possible meanings, its (relatively rare) use by the Visconti as a device, and numerous images of it. Her work also lists three other Visconti imprese that she believes could incorporate medlar trees.
Recently Phaeded
demonstrated convincingly
that the fountain in the Staves suit is not a Sforza device or a Visconti device, and Gabriele essentially agrees: she thinks it must have had some symbolic significance and cannot be merely ornamental, but is not prepared to identify it categorically as an impresa of the family because she could not find any other evidence of its use (p. 290). A user called
"Trismegistus" on the Aeclectic forum
had a similar experience:
I'm writing a thesis in order to graduate on the field of art history at Leiden university – and have been studying the three decks attributed to Bonifacio Bembo for many years. In Moakley and in Kaplan one reads concerning the Cary-Yale-tarocchi that 'the fountain' as found as a motiv on some of the cards should be considered as a Sforza-device, but I have never actually been able to find it anywhere, except for in the mentioned sources.
In the absence of any better explanation, I'm quite happy to accept Phaeded's theory that it's a Fountain of Love, which, as Phaeded observed, fits well with the cupid's arrows used as the staves on the number cards.
A major implication of all this is that
there is no Sforza heraldry in the CY deck at all
.
It's all clearly Visconti, with the sole exception of those shields on the Love card showing a white cross on red, which have been attributed to either the house of Savoy (which provided Filippo Maria with his bride Marie in 1428) or Cremona (site of Bianca Maria Visconti's wedding to Francesco Sforza in 1441).
The suggestion that this shield represents Cremona has never seemed very plausible to me, for two reasons:
1. The coat of arms is clearly and repeatedly paired with the Visconti coat of arms in a very prominent manner on an image depicting a wedding. It must therefore surely represent the family of the bride or the groom. Anything else is virtually inconceivable.
2. If the wedding depicted was the one that took place in Cremona in 1441, it would be absolutely extraordinary to place that shield on that card, because even if it was intended to represent Cremona, it would still inevitably call to mind the arms of Savoy, thus reminding all who saw it of Filippo Maria's union with his wife, and thus reminding Bianca Maria personally that she was not the fruit of that union, but rather of illegitimate birth. In something intended as a gift to Bianca Maria on the occasion of her own wedding, this too is inconceivable.
Given the total lack of Sforza heraldry, the attribution to the 1441 wedding—and indeed any suggestion that the deck was intended as a gift to Bianca Maria and/or her husband, on or after their wedding—is now even more impossible than before. We are left with the conclusion that the wedding depicted on the Love card is the wedding of Filippo Maria to Marie of Savoy in 1428.
This would explain why the groom on the Love card has fair hair—like absolutely everyone else in the deck. This would have been very odd if he was meant to be Francesco Sforza, who had typically Italian dark hair. Several of the Visconti seem to have had fair hair, including Filippo Maria and his father. Perhaps it was a source of pride for them, or at least a hallmark of the family, hence its ubiquity in their playing cards.
So when, why, and for whom was this deck made? In a
post in 2012
, Ross Caldwell said that several art historians date the deck to 1442-1445. That is one reason to conclude that it was not actually made at the time of the wedding in 1428; another reason is that you would expect the heraldry in a wedding deck to represent both houses more or less equally, and that is clearly not the case here. The latter reason would also mean that it can't merely be a direct copy of a deck made for the 1428 wedding either, and one would think it is too lavish to simply be a copy, in any case.
I can think of two possibilities:
1. The Cary Yale deck was made as a gift to celebrate the 15th anniversary of Filippo Maria's wedding to Marie, in 1443. But I'm not sure if Italians gave gifts to celebrate wedding anniversaries at this time; maybe someone else knows more about that. If it was an anniversary gift, it seems most likely that it would not have been a gift from Filippo Maria to Marie—if only because he doesn't seem to have enjoyed the marriage very much—but rather a gift from her to him, or a gift from someone else to the two of them as a couple. If the deck was meant to recall an event from fifteen years ago, that would help explain the archaic clothing on all the figures, which mikeh in a
post in 2010
said is from "the early 1430s, if not earlier", i.e. from the era of that wedding.
2. The deck was made as a gift for Filippo Maria Visconti on some other occasion entirely unrelated to weddings, and the Love card shows the wedding simply because the entire deck was all about him and it was therefore appropriate to depict his marriage on that card (as we know, it is standard for the Love card to depict at least one couple). By thinking the Love card means the whole deck was made for a wedding, we may be reading too much into that one card.
Postscript:
I very much recommend taking a look at Reina Gabriele's dissertation. It contains a wealth of information on the heraldry of the Visconti and Sforza families, and looks like it will have other interesting information to provide. I haven't gone through the whole thing yet, but I did find a nice Petrarch reference on p. 102, which seems relevant to the question of Petrarchan influence on the tarot trumps—it's a quote from Decembrio's
Vita
, so it's probably already familiar to many of you, but not to me because I haven't read Decembrio yet:
Filippo Maria ebbe una vera e propria venerazione per Francesco Petrarca ... "Base della sua formazione letteraria, sebbene scritti in italiano, furono i sonetti del Petrarca dalla cui lettura si lasciava talmente prendere da volere che glieli commentassero anche quando era già duca e anche alla presenza di visitatori, fissando lui in anticipo i passi che desiderava venissero letti, e quali prima e quali dopo" (Decembrio 1983, p. 114-115)
(Filippo Maria had a real veneration for Francesco Petrarch ... "The sonnets of Petrarch, albeit written in Italian, formed the basis of his literary education, and he was so taken with the reading of them that he wanted to be given commentaries on them even after he had become duke and even in the presence of visitors, specifying in advance the passages he wanted to be read, and in what order")
[Original post updated Feb 24, 2020, to correct the source attribution of the illuminated initial P and to include that source in the list of Gabriele's evidence.]